My Top Reads of 2014 proved to be one of the most indifferently received blog posts of my entirely unread blog, so of course I was gigantically motivated to do the same again this year – because that's what madness is, repeating the same actions in the hope of a different response, right?
Under the Skin, Michel Faber (2000)
"It's not science fiction, it's literature, with speculatively fantastical elements" – I can just hear some straw-man snob sniffing those very words as he swills his Camembert and spreads Riesling on a bespoke whole-grain cracker. Well he's doubly-wrong, because it's really a horror – a piece of brutal social commentary about loneliness, sex, and this other thing I'm not going to spoil. Fine: "horror, with speculatively fantastical elements". Happy now?
Stories of Your Life and Others, Ted Chiang (2002)
I read everything I could find by Ted Chiang in 2015, and none of it disappointed – with the possible exception of this collection's title, which I love but which actually, sadly, takes the form of "and Other Stories". The title-contributing piece, Stories of Your Life, was one of the most moving things I've read in years, and if the Others didn't quite match it in my esteem that's hardly a criticism. Chiang is now a must-read for me. Shame he's so prolific (irony, for those not in the know).
Choke on Your Lies, Anthony Neil Smith (2011)
And speaking of titles I love, have this one. I'm not even sure how I came across this now, but what caught my attention was learning it was a kind of back-handed homage to Nero Wolfe (what can I say: I liked the TV series). It didn't hurt that it was cheap either, but I more than got my money's worth in a sharp, caustic, funny detective yarn that is exactly as contemporary as an obscenely wealthy genius who also happens to be an obese dyke with a giant strap-on dildo can be.
Daybreak, Brian Ralph (2011)
I got this one via a Humble Bundle, or something much like one. A graphic novel set in a classic zombie apocalypse (I sometimes pine for the days when you could say "the" zombie apocalypse, instead of having to name your brand). The quirk is that each six-panel page has the reader looking out through the eyes of the protagonist, addressed or attacked by those around them – this is a First-Person Zombie Apocalypse, then, and a better one than the REC movies, too.
The Hydrogen Sonata, Iain M. Banks (2013)
Fifth in last year's list was Ann Leckie's Ancillary Justice, whom/which I compared to Iain M. Banks (just like everyone else does) but with the qualifier that, well, no-one matches Banks for me. This was the first Banks I've read since he passed away, and I found myself enjoying it in that light. That its story is about moving on to the unknowns beyond, and that its hero confronts her challenges while preoccupied with the prospect of leaving her life's chosen work unfinished, seems fitting.
The Ear, the Eye and the Arm, Nancy Farmer (1994)
Review here. A Wizard-of-Oz-like escapade in which the children of a benign dictator sneak out of their walled home and become pawns in half-a-dozen weird power struggles in a future Zimbabwe. A cheerful trio of mutant detectives are hired to track them down, but the kids are resourceful enough to keep one step ahead of rescue throughout, by always getting into more trouble – an odd but entertaining read.
Worm, Anthony Neil Smith (2015)
I liked Choke on Your Lies enough to pick out another Anthony Neil Smith title the minute I finished it, and things were going well with Worm… until things turned really nasty. I ended up taking a three month break from it, and grimly good as it finally proved to be, this is a relentless downward slide into misery and violence that doesn't ever really get better for all concerned. Grotty characterisation appropriate to the world of oil drilling, drug slinging and other casual crimes.
The Shadow of the Torturer, Gene Wolfe (1980)
I received all four volumes of The Book of the New Sun in lieu of payment from an e-zine (a concept that now features in a story I'm writing – books as currency? I'd live in that world, and I'd be rich, damnit). I've never read Wolfe before and was momentarily put off by what seemed an over-wrought style – until I realised that every florid-prosed fantasy writer self-publishing today is trying to do what Wolfe did perfectly. The only flaw is that Torturer does not stand alone; but I'm already approaching the end of book two and looking forward to the rest.
Gun Machine, Warren Ellis (2013)
It's tough to describe this one. Great crime writing in that it's terse yet expressive, simultaneously down-to-earth and larger-than-life; a play on old tropes (the lone detective losing his grip on the why of the job, and the crazed serial killer with a stand-out quirk) and new ones (the glossy, know-it-all tech-heads of CSI and the growing ubiquity of data technologies and niche culture); plus clues, chases, gunplay and guilt. The end was almost inevitably anti-climactic, I think on purpose.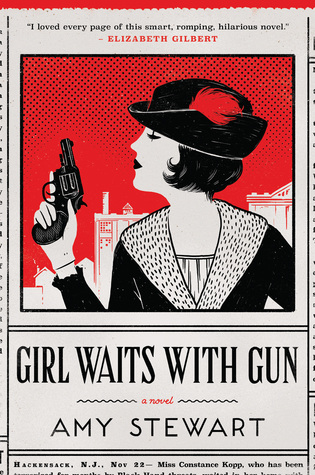 Girl Waits With Gun, Amy Stewart (2015)
Clues, chases, gunplay and guilt – all that's here too, but the two books could hardly be less similar. A pre-WWI period piece, Girl Waits With Gun is a fictionalisation of actual events which takes the form of a witty and charming confession: partly of the protagonist's painful secret, mostly of her disbelief at the decline of society she witnesses and the conflict she and her sisters are therefore drawn into. But Miss Constance Kopp has nothing to be ashamed of, and turns out to be a highly entertaining narrator, not to mention an ass-kicking heroine of the first order.
---
THE END..?
I read less this year than last, but in the end not by much. I lost my beloved Kindle in April and only replaced it in November, so the intervening months became second hand paper-based – and as a result I discovered the pleasures of John Sandford, reading eleven of his Lucas Davenport police procedurals and two more following that fuckin' Virgil Flowers.
I didn't include any in my top ten, but several hover just outside it. The best of them was probably Mortal Prey, but Certain Prey and Broken Prey ran it close. Sandford has a formula (not just in his titles…) but it's a good one.
I wrote less too, but with relatively good reasons. The main one was my involvement with the latest SFFWorld.com anthology, a collection of ecological sci-fi and fantasy stories called ECOTONES, which I edited. It's really good, way better than any of the nothing books I just listed – but of course one was too modest to mention it… until now…
ANYway, that's it for this year! I'm looking forward to finding out what 2016 has in store, aside from financial destitution and/or conventional employment. All the best to anyone who reads this, and…
Happy New Year!