Post-apocalyptic fiction has been a popular genre for decades and, growing up as a fan of science fiction, fantasy and horror, I was never far from one example of it or another. It's perfect material for a young reader: what could speak quite so directly to the juvenile audience as stories in which everything that came before is wiped flat so someone new can start again and save the day?
Now, with seemingly countless examples of zombie disasters filling book shelves and virtual stores, I'd say that (alongside YA's other scifi darling, the Dystopia) the post-apocalyptic genre is as strong as it's ever been. Writing my own apocalyptic stories was fun, but I enjoyed re-reading old favourites first. When I was (this is a guess) around ten years old, my single favourite book was Empty World, by John Christopher. Three or four years later (again, a guess) I stumbled into the morbid grip of Stephen King, and
The Stand stepped up to take pride of place in my reading hierarchy, for a while at least.
Both books follow a similar premise: a disease outbreak wipes out the population, leaving the handful of survivors to make their way through the echoing leftovers of a lost culture; but while King's story takes a turn for the epic supernatural, Christopher's is less glam. Empty World tells the story of a teenager who, still coming to terms with the death of his parents, is orphaned for a second time when the human race ends and leaves him still running in it. It's about coming to terms with loss, or failing to do so; about forgiving and forgetting, and picking up the pieces.
However, although Empty World was probably at the back of my mind while writing, neither of these is inspiration for the second story in my imminent ebook release, Absences. In fact it was another John Christopher title, one which I didn't actually read until several years after I wrote my story. The minute I heard about it though, I loved the concept (it was mentioned in a great BBC scifi documentary with a terrible title, The Martians and Me); and, much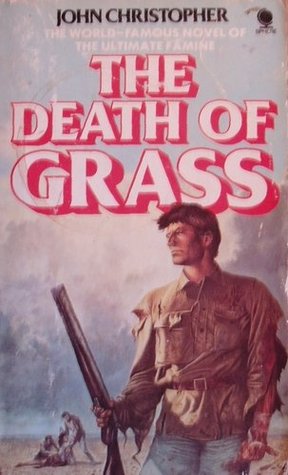 as I now think of Daphne du Maurier's classic The Birds as being an "intrapocalyptic" tale, so too is The Death of Grass.
In a nutshell, The Death of Grass presents a world in which, er, all the grass begins dying. Starting in China, the prospect of famine drives the population into a chaos of rioting and looting which, as supplies decline, escalates into cannibalism and state-sanctioned slaughter in an effort to retain control. The virus soon spreads to neighbouring countries and international aid dries up, with everyone else stockpiling just in case the imminent, certain solution proves to be neither of those things – but we only hear of this at one remove.
The story itself takes place in middle class England, with an engineer from London setting off with his family (and a gang of hangers-on) in tow for his brother's farm in rural Scotland, convinced the city is the last place to be when the boot finally drops on the heart of the empire. This is a journey yarn, favourite of many a post-apocalyptic novel, but not through some blighted wasteland – Christopher's hero pre-empts the collapse, at least on a local level. So, as with The Birds, what we have here is an examination of how one group deals with a disaster-in-progress, rather than how they face the fallout afterwards.
Supposedly written over a couple of weeks, supposedly in reaction to Brian Aldiss' sneering label for a certain breed of British disaster novel (the "cosy catastrophe", in which billions die but the stiff upper lip crowd Keep Calm and Carry On), The Death of Grass is actually far from a gentle read. It is also painfully dated in some ways, though that may do it a few favours – the casual low-grade racism that occasionally pops into conversation makes it sound plausibly like England circa 1956 (hell, maybe today too, UKIP seem to be doing all right for themselves).
While this isn't a masterpiece by any means, what gives it surprising power is the speed with which we see the trappings of civilisation cast aside. There is an old adage to the effect of "the difference between a dog and a wolf is one missed meal", but Christopher doesn't give mankind even that much credit. There is still enough food to go around in England when the first shots are fired, and fired by the heroes, and it is prime symbols of civilisation that are the first targets. It also forced me to re-evaluate the ending of my old favourite, Empty World, which was shown to be hopelessly naive by comparison with The Death of Grass's cut-throat conclusion – a half-happy ending that could get a nice boy killed…
Like The Birds, The Death of Grass had its day on the big screen – but there are some significant differences in their respective film adaptations. It's no hot news to suggest that Hitchcock's movie is a bit of a classic… it would be a brave person to say the same of No Blade of Grass, which used the book's American title.
The blurb read "Yesterday, they were decent people letting their environment die. Now they are savages, killing to keep themselves alive." I'm not totally convinced by this definition of "decent", but otherwise this hammy splash was about the highlight of the viewing experience. As is hinted at in the poster, there were considerably more horned biker gangs in the movie (100% more, to be exact), and having lush grass everywhere in a film called No Blade of Grass is just asking for it – but it does maintain the book's central message: if you want to survive the hard times coming, you'll have to sacrifice much that civilisation values – and before someone else does it to you.
W
hen I started The Blade, this is the world I wanted to tell a story within – but a more contemporary version of England, and focusing on a heroine struggling with more contemporary issues. As I mentioned in my last post, I was struck while re-watching The Birds that, while I set my story in Christopher's grassless world, the experience of my heroine is much more like that of Tippi Hedren's Melanie. For reasons I will choose not to reveal here, I wanted to throw ever increasing misery on my character, to try and break her down to the point where even if she made the worst of decisions under duress, no reader would easily blame her for doing so…
However, unlike Hitchcock's treatment of Melanie, I believe there is a value in what my heroine undergoes, while Melanie's downfall strikes me as poorly justified – punishment for not being a proper good girl, basically. That's right, I'm saying that I'm a better storyteller than Alfred Hitchcock, and my short story is better than his film!
But my opinion doesn't count – what matters is whether you like it! Dark Matters: Absences is out on April 6th, and you can download a free sample right now. Next week I'll be posting excerpts from both stories right here, so come check it out and see what you think…