I managed to fit over thirty novels under my belt this year (twenty-nine I can name for sure, plus a few more lurking in the shadows). I'm happy to report that very few were a disappointment, but (conveniently) exactly ten struck me as particularly praiseworthy, and what better time to salute them than December 31st? None! So here they are, in (I think) the very order I read them.
The Left Hand of Darkness, Ursula K. Le Guin (1969)
It's not for no reason that some books become recognised as a gold standard in their genre. This isn't my favourite Le Guin novel, but it's a brilliant piece of writing and world-building both. Unneeded proof that, in the great breadth of science fiction, the cold pleasures of hard-tech-fetishism need to be balanced by such vibrantly realised anthropological musings as this.
The Satanic Verses, Salman Rushdie (1988)
Review here. Bitter, funny, wise, beautifully written – suffice to say, one of the finest novels I've ever not read. I listened to it on audiobook, my first, and that turned out to be a fine experience in itself. Plus I can still look forward to reading it "again" for the first time… fantastic.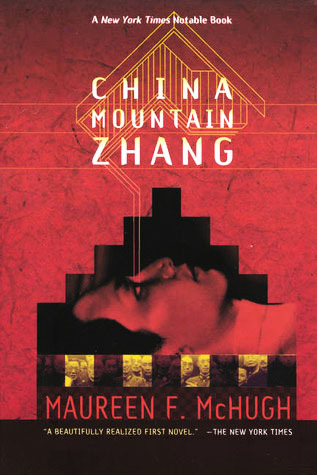 China Mountain Zhang, Maureen F. McHugh (1992)
Review here. An exemplar of how online book retail should work. I downloaded the free sample, started reading, and McHugh's novel took hold of me with gradual, insidious force and didn't let go until I bought a copy – at about 1am, so I could continue reading to 2. A heartfelt, multi-stranded character study of an alternate near-future, disguising the big picture behind small but valuable lives.
Hawthorn and Child, Keith Ridgway (2013)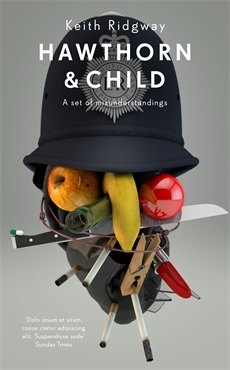 This proved one of the strangest yet most satisfying books I read all year. What promises to be a straightforward police procedural instead takes a series of apparently random digressions, and the titular investigators are at times less than even peripheral agents in what takes place. Characters who are rarely likeable but always believable, stories feeling never less than real even when outlandish… and then there's that cover.
Ancillary Justice, Ann Leckie (2013)
An sf story of epic scope, rightly drawing comparisons to Iain M. Banks' Culture novels… and yet it's over-rated (flinches, ducks). That's a harsh judgement, but sweeping the awards board demands only the highest of comparisons, and in all honesty I found it a little over-written and felt the close was more a teaser for a next book than a true wrapping up. I have to say I prefer both The Left Hand of Darkness and China Mountain Zhang, but that's hardly shameful company to keep, and I did enjoy it a lot.
Scale Bright, Benjanun Sriduangkaew (2014)
Despite enjoying Japanese, Korean (South ~, naturally) and Hong Kong cinema, etc., I've only read a little fiction from out of "the East". Thai author Sriduangkaew's suite of sci-fi-fantasy stories was the first example to really open my eyes, presenting a cultural freshness that I didn't realise was absent from what I was getting. The surface influence has long been evident in science fiction (Blade Runner's cluttered, humid neon, for example, or William Gibson's cyberpunk sprawl), but Scale Bright exposed me to alien mythological underpinnings, stepping away from the same old Arthurian/Greek/Roman/Christ/etc. narratives and revealing something that was, to me, both old and new – not only that, she re-purposed and gender-queered them but still maintained their sense of relatable, authentic power, even to the uninitiated.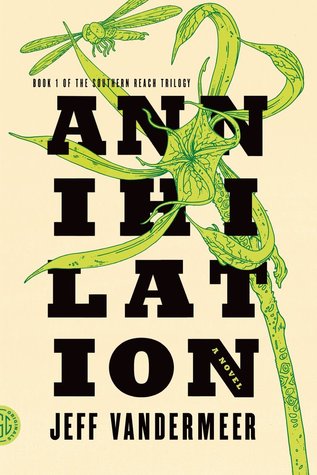 Annihilation, Jeff VanderMeer (2014)
On the surface, Gothic science fiction with an ecological bent. Beneath that, a sinister, relentless and increasingly surreal psychological thriller about isolation and the erosion of trust. First part of a vaguely experimental trilogy – it was published in February, the sequels Authority and Acceptance in May and September respectively – Annihilation is a fast, impactful read, and I've only not got to the others because A) I have too many books to read already, and B) anticipation. Apparently the film rights were sold before the books even came out and I can imagine a damn good result, if it falls into the right hands and they resist the temptation to fill in the very deliberate blanks.
Some of Your Blood, Theodore Sturgeon (1961)
Review here. Best known for More Than Human, one of science fiction's literary canon (as well as some classic Star Trek episodes), Sturgeon's not-exactly-vampire yarn has dated in the perfect way. An epistolary novel focusing on the therapeutic treatment of a disturbed soldier with an obsession for hunting, the letters sent back and forth between doctor and confidant are full of characterful detail – and place it squarely in the 50s, via passing references to a guessable American war (and the admiring-but-patronising way competent women were looked upon). This lends the whole the air of discovered reality, precisely as the book presents itself, and it's a gentle, interesting read – until the horror hits, almost in passing, and it hits pretty hard.
The Other, Matthew Hughes (2011)
A crafty, corpulent criminal of mankind's unimaginably distant future is conned, KO'd, carted across the galaxy and kicked out, all but naked, on a planet where the entire population are as alike as peas in a pod. Exceptions to this rule are a source of both revulsion and fascination, and Luff Imbry is quite exceptional. A Jungian feast filled with chewy names and rich language, seasoned with wit and humour. I'm in love with that devilish chap on the cover, too…
A House of Knives, William Shaw (2014)
Much as I enjoyed the first "Breen and Tozer" novel, A Song from Dead Lips, I had a few reservations. The sequel blew them all away. Shining a stark, unflattering light on the dying years of the 1960s, Shaw's series looks to establish how modern Britain has been built on that idealised era, and does so with a cold, distant but engrossing authenticity. I can't wait for the third novel, and for that reason alone this is the perfect place to end my list: A Book of Scars comes out summer 2015.
---
THE END
As well as reading these and other books, not to mention a fairly countless number of short stories – and forget about the seventy-odd movies – I've had quite a bit of fun blogging this year. I'd like to thank all the authors who deigned to be interviewed at axe-point, helping to transform the Cartesian Theatre from an unread collection of reviews to a little-read mish-mash of this, that and the other. All that leaves me to do is wish you the very best for the new year. And I do!